---
Make your reservation for the Holiday Tea!            email
Karen @
[email protected]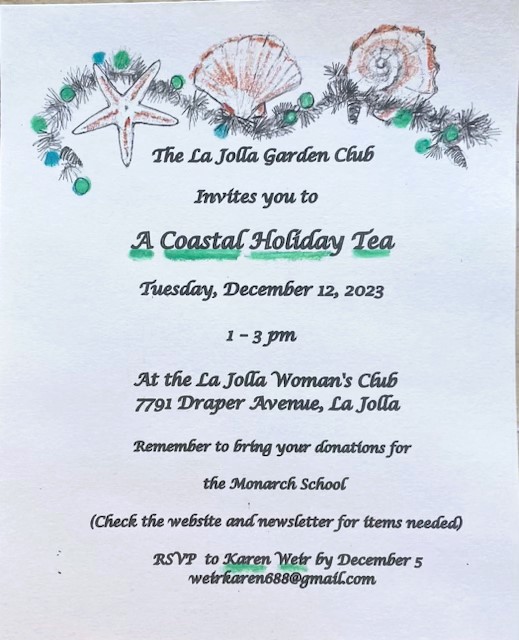 Since 1968 our club has provided its members with wonderful opportunities.  We've made new friends. We've heard talented gardeners, landscapers and floral designers speak.  We've enjoyed amazing field trips to nurseries & gardens and, best of all we've had fun!
Some things we do:
 *We've joined forces with Enhance La Jolla to improve our village 
*We provide a floral arrangement each week at the entrance to the The La Jolla Riford Library  
*We created and now maintain a lovely courtyard at the LJ HIstorical Society
* With our Fundraisers we have provided Scholarships for Horticulture Students at local Community Colleges for 43 years!
*  We've bought essential tools for Kate Sessions Elementary School Garden, and created small arrangements delivered by Friendly Visitors here in La Jolla.
Join a Committee and help brainstorm new ideas!
* Invite a friend to come with you to a meeting!
 *Jump into a committee and have some fun this year!
Claudia Chan-Shaffer & Pam Filley,
Co-Presidents 2023-24